Baltimore Marathon 2010
10/16/2010
I ran the full Baltimore Marathon on October 16th, 2010. This was my second full marathon. My primary goal was to finish upright and under my own power. After that, I wanted to beat my previous time of 4:54:02, and if possibe, Oprah Winfrey's old marathon time of 4:29. Who wants to be slower than Oprah? I was aiming for a 10 minute mile pace, which would lead to a 4:22 finishing time if I was able to sustain it.
The conditions were almost perfect for a long run. The temperature at the start was around 50 degrees, and the winds forecast for the day did not start until later on. I wore my usual Nike shirt and shorts, with old tube socks as arm sleeves and a pair of cheap knit gloves to keep my hands warm. Joyce ironed my name on the front of my shirt so people could cheer for me by name.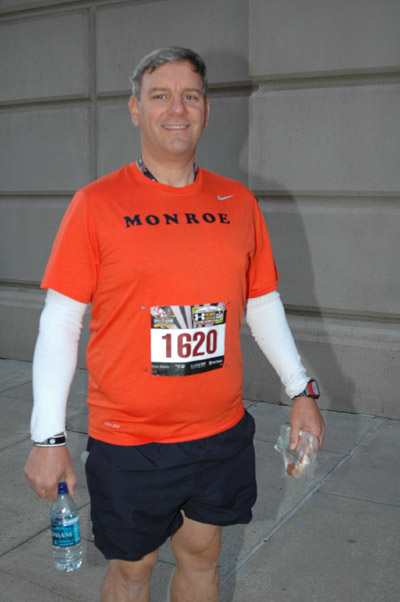 Before the start. Note my water bottle and bagel thin. Also note my smile- the smile of someone blissfully ignorant of how much he is going to hurt in the next few hours.
I started the race near the 10 minute per mile pace sign. The initial part of the course went from the corner of Camden Yards up toward Druid Hill Park. This was mostly uphill for the first 3.5 miles. My pace was a little faster than I planned:
Mile 1- 9:47
Mile 2- 9:51
Mile 3- 10:08
Mile 4- 9:48
This was a little faster than my planned 10 minutes per mile, but not much, so I wasn't concerned. As you will read later, that was a mistake. I noted some tightness in my left shin and a little pain in my left quadriceps. That had hurt a little bit on hard training runs, so I was not worried about that either.
I am in this crowd, somewhere.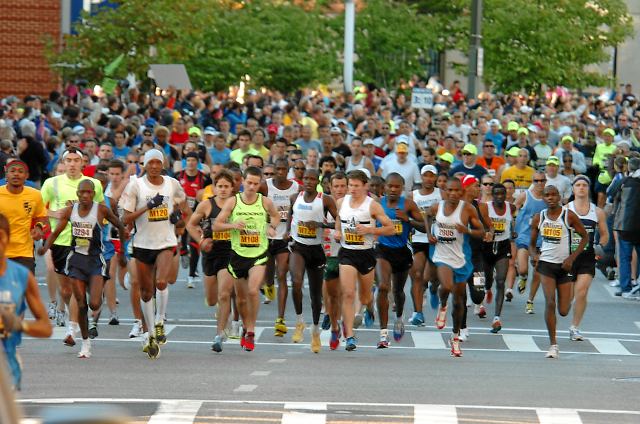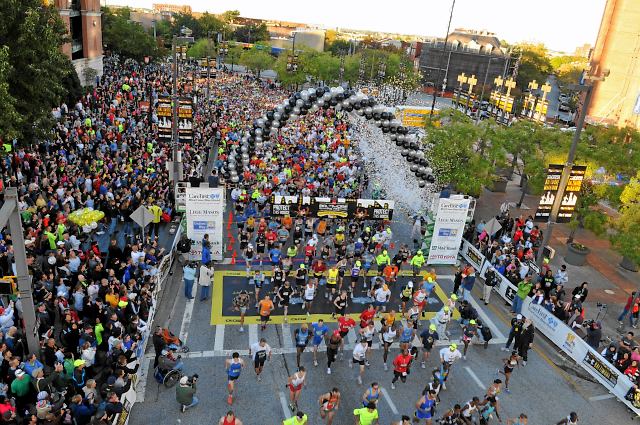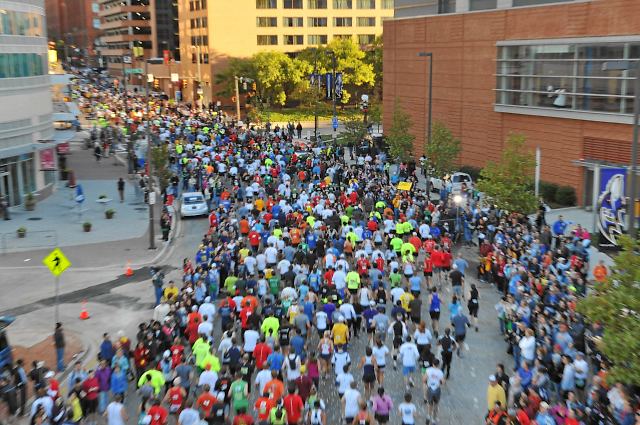 The course continued through Druid Hill park, over I-83, and then toward Johns Hopkins University. It then headed back south, toward the Inner Harbor, on a mostly downhill route down St. Paul Street. I was still feeling pretty good through this section. I ditched the arm warmers and gloves around mile 5 as the day heated up. There was a live band (one of many) and a food/water stop in front of Mercy Hospital. I grabbed some water and a bag of Utz potato chips. I managed to drink my water on the run without much trouble. I had never tried to eat chips out of a bag while running, so that probably looked pretty funny. I was able to get the chips in before hitting the big crowd at the Harbor at mile 9.
My pace through the park and down the hill was significantly faster than my goal. I had banked about 3 minutes above my target time by mile 9. I still felt fine since I was going downhill, but the effort was slowly starting to take its toll.
Mile 5- 9:37
Mile 6- 9:40
Mile 7- 9:25
Mile 8- 9:23
Mile 9- 9:20
The half marathon starts near mile 9. The runners and spectators for that were lined up when I got there, so we had lots of people cheering for us through this section. Many people cheered for me by name thanks to my personalized shirt. After passing by this large crowd, the course continued along the harbor toward Fort McHenry and the Under Armour complex. It looped back toward the half marathon start, reaching that point at mile 13. I was still running faster than my goal pace, and my legs were starting to hurt. I tried to back off a little when I noticed that I was going too fast, but I was not doing a very good job. A Ravens cheerleader passed me near mile 11. I could tell by mile 13 that I was going to be hard pressed to maintain the pace.
Mile 10- 9:28
Mile 11- 9:40
Mile 12- 9:42
Mile 13- 9:54
These photos were taken somewhere near the Inner Harbor.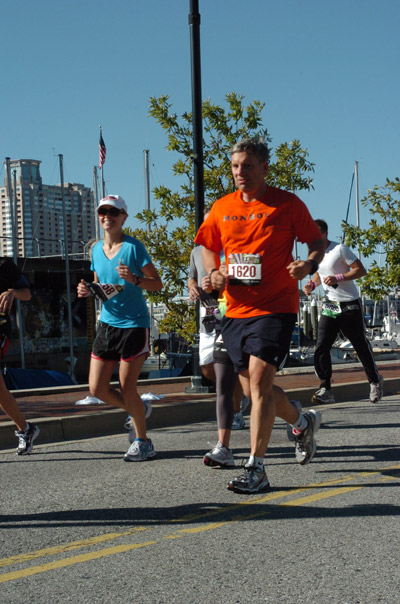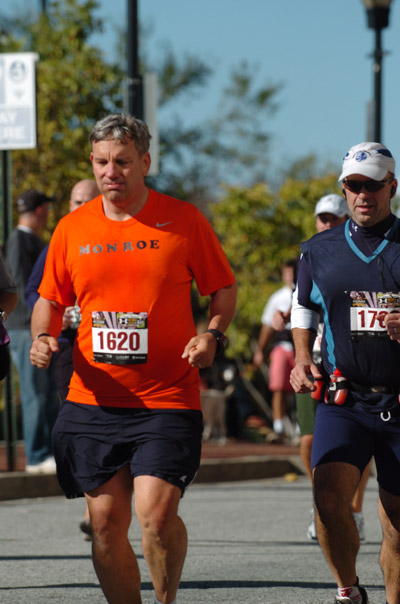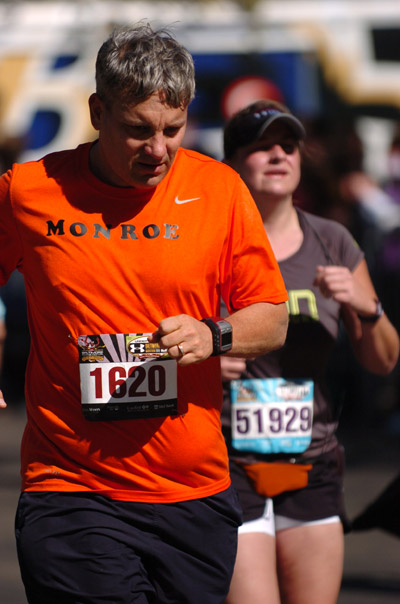 The course followed the water through Canton and Upper Bolton Hill. This was flat, and the wind was picking up. My pain level increased as I tried to keep up the pace before the big hill that came next. My times started slowing down in this section. I still had some time banked from running all the earlier miles so fast, so I was still close to my overall pace.
Mile 14- 9:41
Mile 15- 10:01
Mile 16- 10:17
The half and full marathon courses met up at mile 16, at Patterson Park. This was at the beginning of a long hill heading up for about 3 miles to Lake Montebello. The hill, the wind, and my tired legs all combined to really slow me down through this section.
Mile 17- 10:41
Mile 18- 11:04
Mile 19- 11:17
Mile 20- 11:58
I finally used up all of my banked time at mile 19, according to my watch. At that point I was just barely at an overall 10 minute pace. Miles 20 and 21 were up at the top of the hill, at Lake Montebello. The course went around the lake and then headed west, back toward Johns Hopkins. I was in serious pain by this point. I also started waking through the water stops to get a little break. That felt good for a few seconds, but the pain returned when I started running again. The gummy bear people were up near mile 23. That was a nice, sweet treat at this late point of the race.
Mile 21- 12:13
Mile 22- 12:06
Mile 23- 12:26
The last 3 or so miles were all downhill back toward the stadium complex. I was hurting more and more with every step. I even stopped for a walk break at the bridge near mile 24. I was passed by the 4:30 pace group and many other people. One spectator near the end of the race yelled out "you all look miserable, maybe you should train harder next year." That was rude but funny. It was hard to laugh and run at the same time, but somehow I managed. The end of the course goes through the walkway of Camden Yards and ends on the Ravens Walk by M&T Bank Stadium. I did not have any sort of finishing kick, so I stumbled across the line to finish the race.
Mile 24- 12:21
Mile 25- 12:43
Mile 26- 11:53
Mile 26.2- 11:10 (pace)
My official finishing time was 4:38:39. I beat my old personal best by about 15 and a half minutes, but I did not beat Oprah or keep the 10 minute pace. I can keep these goals for next time.
These photos were taken in and around Camden Yards.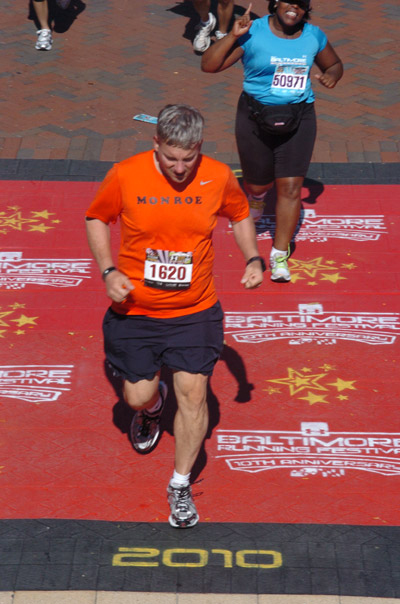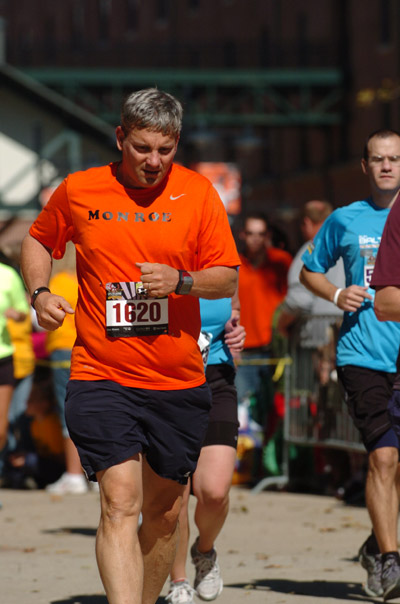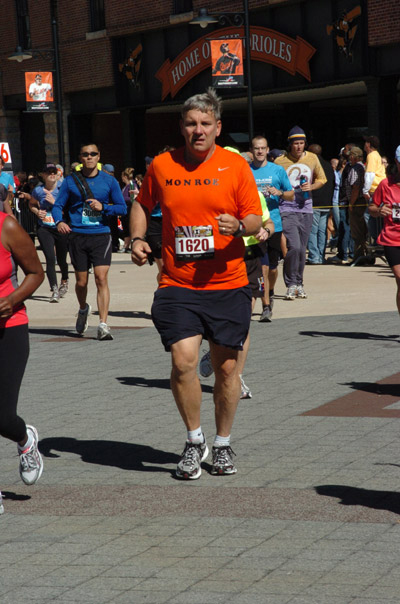 This video shows me crossing the finish line. The first 90 seconds or so are highlights of the race. My part is at the end. I am on the left side of the screen. You may have to allow ActiveX to run on your computer if the video window does not show.
All of my research shows the importance of not starting too quickly. I thought that being slightly ahead of pace was good enough, but my body thought otherwise. I did not have the fitness to sustain the 9:40-ish paces I built up early on, and that led to 11s and 12s toward the end. It also led to some seriously painful legs after the race and the day after. I will apply these lessons in the future to hopefully improve my performance for next time.