Our Dog Casey
Last Update: 12/08/2005
We adopted another dog from the local shelter. We brought him home on October 7th, 2005. He looks like a golden retriever mix. He was found wandering along a road and he was very malnourished. He's still very skinny, so we have to make sure he eats enough to put his weight back on. He is a very lovable dog- he is very affectionate, and he plays, and he follows us around when we walk through the house. We named him Casey.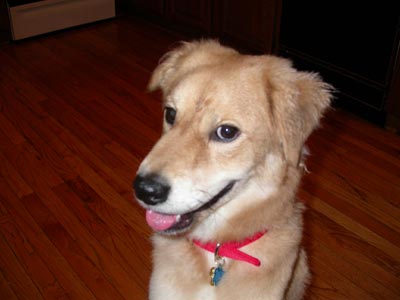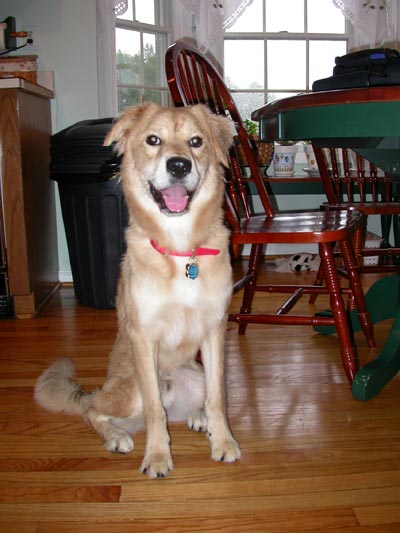 Andrew and Monroe took the dogs to the Bel Air dog park on November 5th. These next three photos show Casey at the park.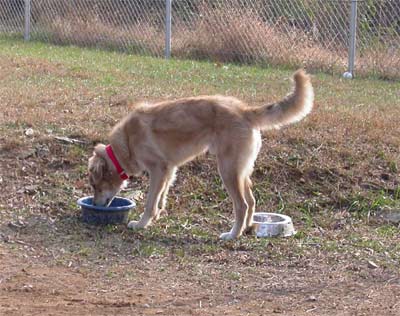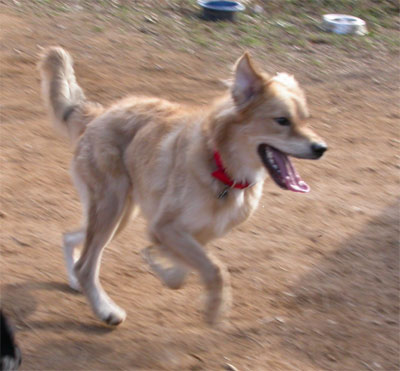 Casey is on the left, and Madison is out front in this race down the length of the park. Both dogs can run very fast. The other two dogs shown here belong to other people at the park.
Casey is a very loving, affectionate dog. When I came home from work at lunch time, or at the end of the day, or at any time, he and Madison would stand by the door and bark. He would have a toy in his mouth and he'd offer it to me as a present. I would take it and put it with the other dog toys. He would jump up and lick me on the face over and over, sometimes nipping my nose a little in his excitement.
At night he was a huge snuggle puppy. He would often sleep on our bed and cuddle up with Joyce or me, or both of us. When he didn't sleep on the bed, he slept on the floor near the bed. When I rolled over to face the edge of the bed, he would sometimes come over and lick my face some more. He loves to snuggle up and be petted and get belly rubs.
Casey and Madison played together all the time. They had a game where Madison would have a treat, like a jumbone or a rawhide. Casey would have one too, but he wanted Madison's, so he would run around and chase her until she gave it up. Madison would sit there and watch him with her treat for a few moments, and then she would go get the other one that he left behind. Then they'd repeat this a few times. Both dogs wrestled around on the floor a lot with each other too.
When we first adopted him from the shelter, he was very thin and malnourished. They told us he was on the streets for about a month, so he was lucky to be alive. The vet told us he had roundworm and lyme disease too, so he had to take a bunch of medicine to get better. We gave him his pills, and lots of food and yummy dog treats, and he healed up and gained weight. His coat became smoother and softer and he had a lot more energy, which he used to chase Madison around the house.
We had to take Casey back to the shelter on December 3rd, 2005. I can't say why, so don't ask. We all cried and cried at the thought of giving him back. To the very end he was happy and playful and he nibbled on my ear from the back seat while I drove him there. I was so sad. But the nice people at the shelter will take good care of him, and he'll find a new home with a new family.
These next photos were taken on December 3rd, 2005, our last day with Casey.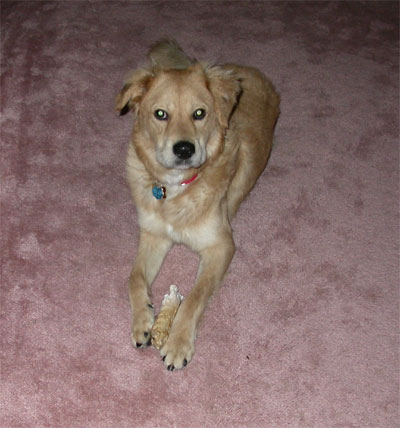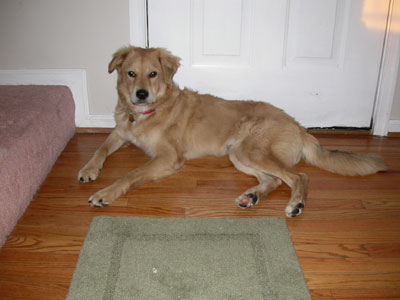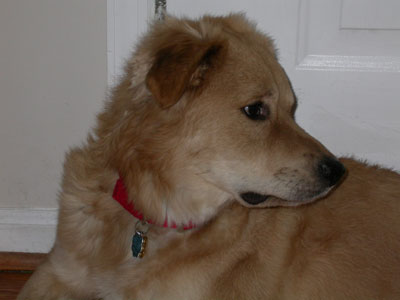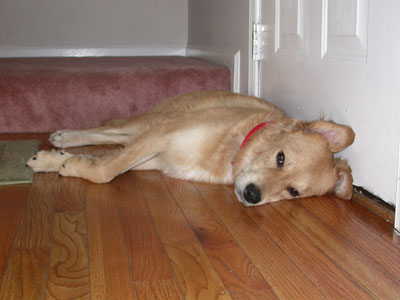 We love you Casey, and we miss you!