Joyce's and Monroe's Backyard Birds / Ruby-throated Hummingbird
Last Update: 1/1/2019
We have attracted several Ruby-throated Hummingbirds to our hummingbird feeder at our house in Havre de Grace, MD. The one shown in the first three photos is a female, since the red throat color is not visible. We have also had a male hummingbird eat at the feeder. The red on its throat is obvious, and the green on its back looks darker than the female's. We only saw them at the feeder together once in 2004, but we have seen several of both sexes near the feeders in the summer of 2005.
The hummingbird flies up to the feeder and scopes it out for a moment and then sticks its long beak into the plastic flower. It hovers and eats and then flies away when I trip the camera shutter. We've seen them in the mornings and evenings. These photos were taken in the evening on July 15th, 2004.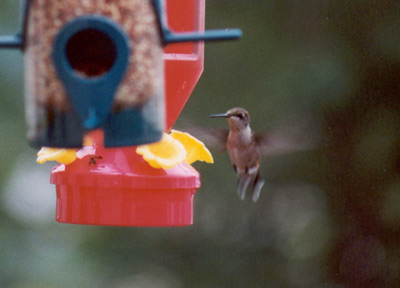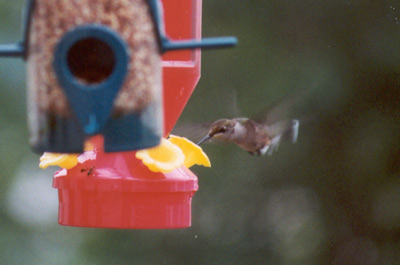 The following pictures were taken on July 16th and 17th, 2005. The hummingbirds appeared this year in May, and lately we have seen two of them flying around at a time, but only one feeds at a time. The first three photos show a male, and the last one appears to be a juvenile male. A little red is visible on the side of its neck in the original photo print.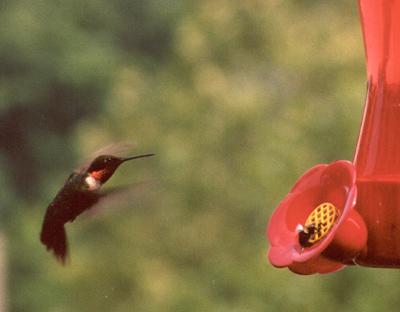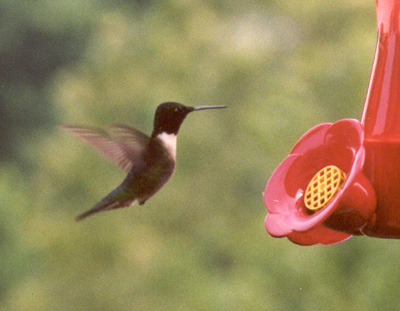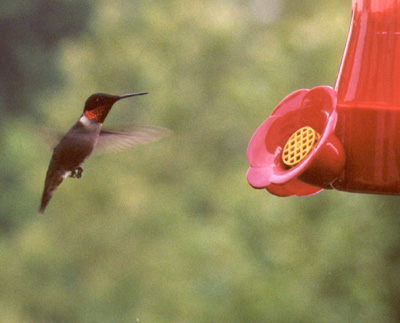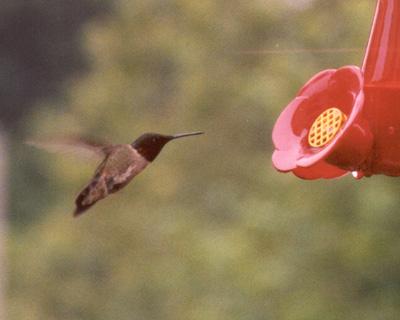 Note the tanner color of the body and the shorter tail feathers. There is a tinge of green to the back, and a little red spot is visible on the neck in the original print. That is why I think this is a juvenile male Ruby Throated Hummingbird.
Joyce and I saw 3 Ruby Throated Hummingbirds at Bombay Hook NWR, DE on August 18th, 2007.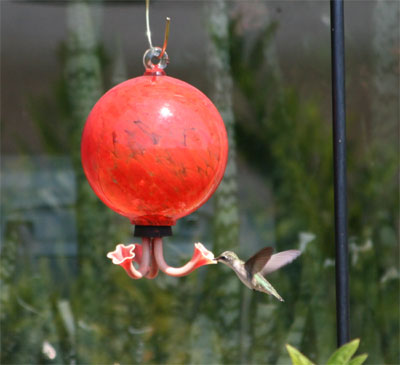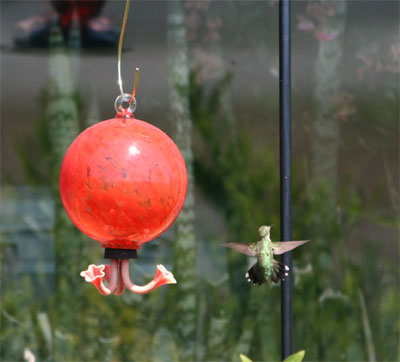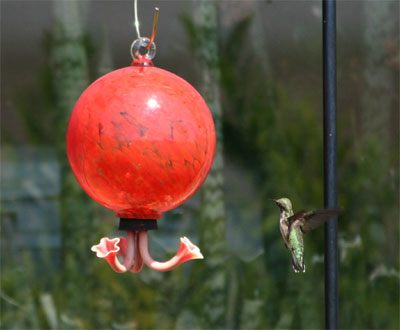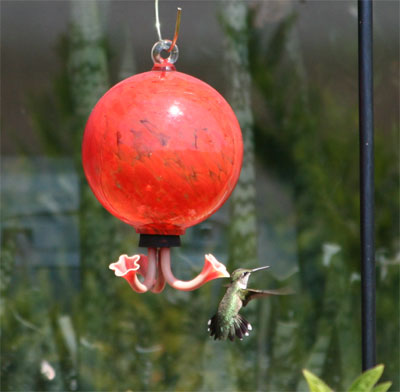 I saw two different hummingbird nests, with a bird on each one, in Susquehanna SP on May 23rd, 2009.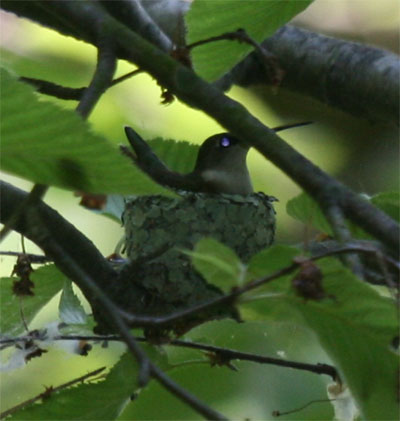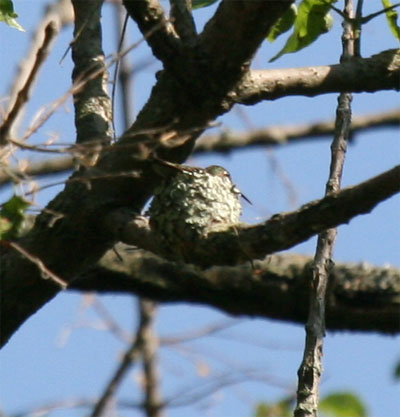 We have at least three hummingbirds at our feeders during the summer of 2011. I have seen an adult male, an immature male, and at least one female. I got a series of photos of them in mid July 2011. I have not been able to get a decent picture of the adult male. He flies away whenever I move my hand to the shutter button on the camera. He is much more skittish than the others.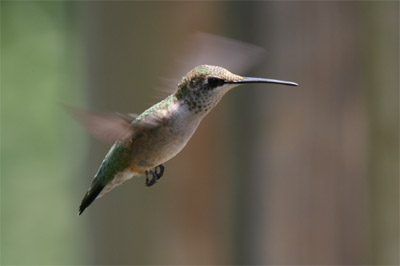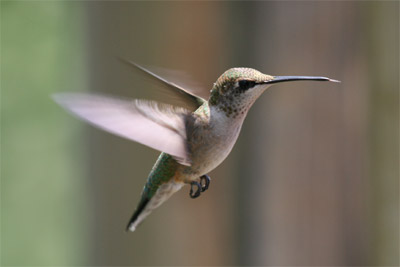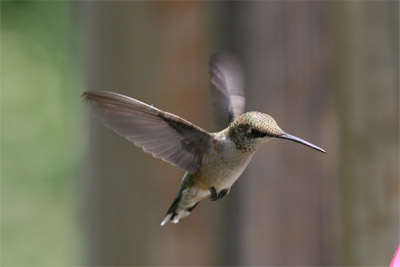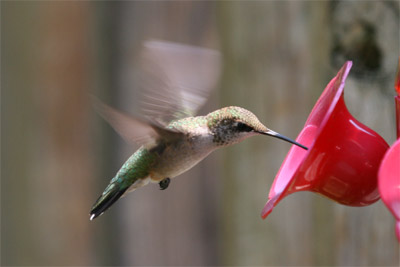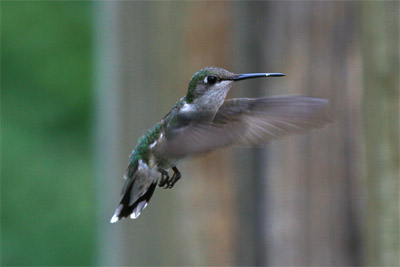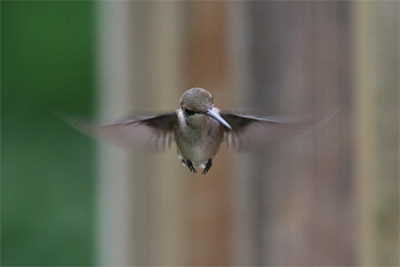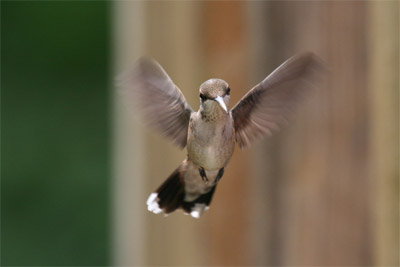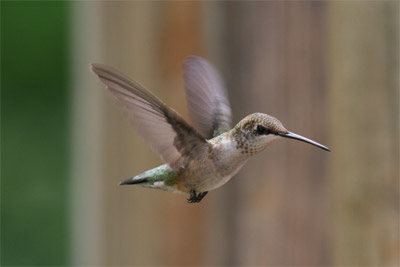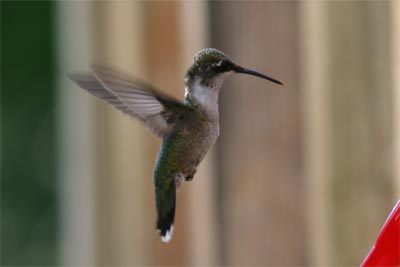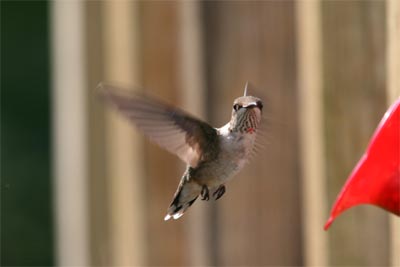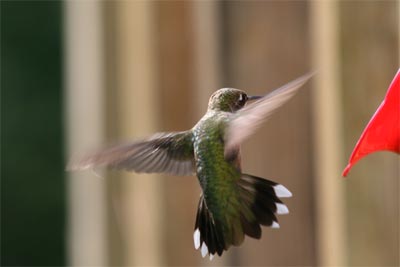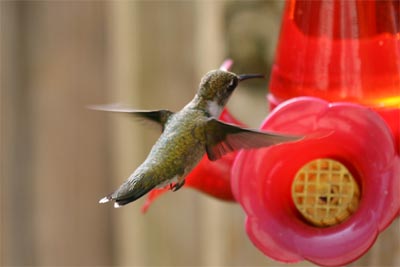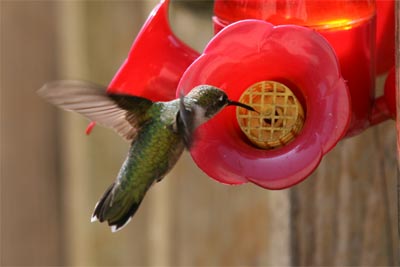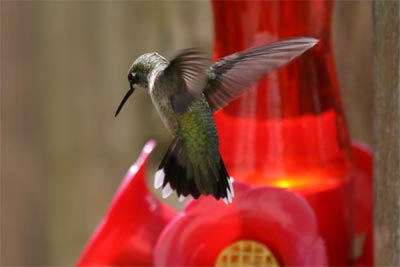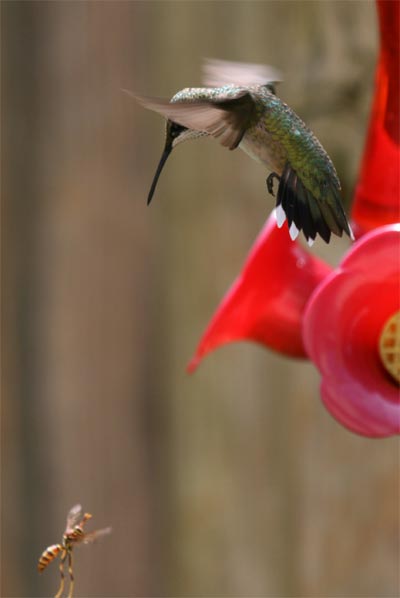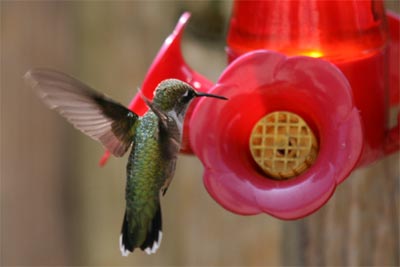 This one perched in a tree next to the Bombay Hook NWR, DE visitors' center on August 13th, 2011.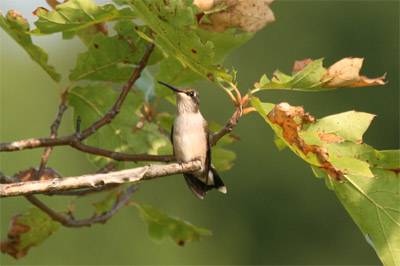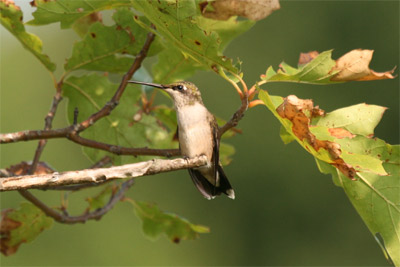 I saw this male at our feeder on May 1st, 2013.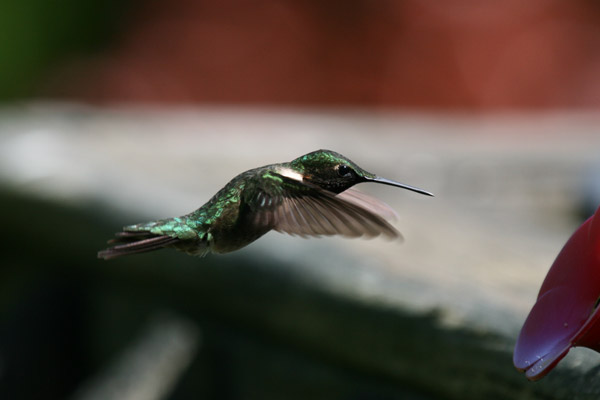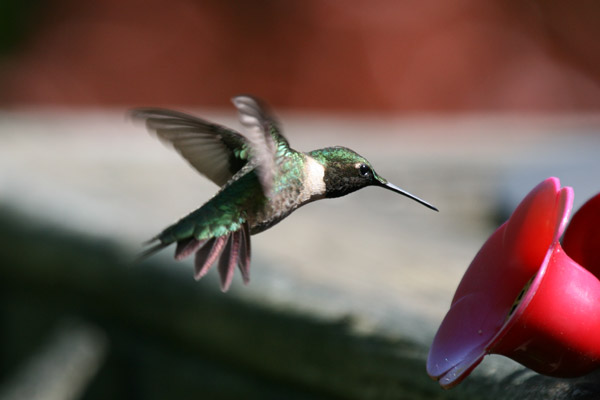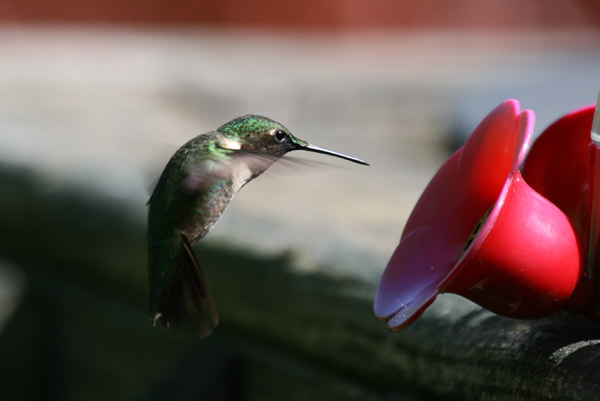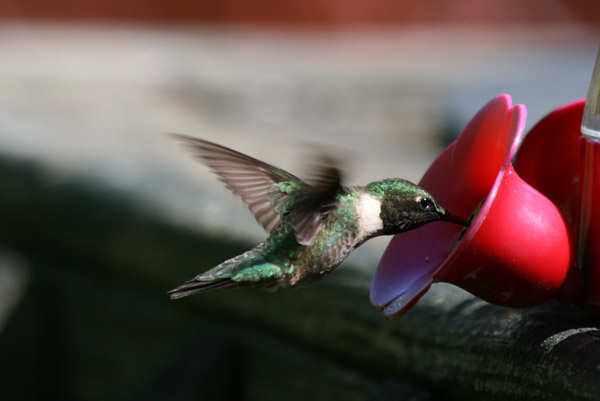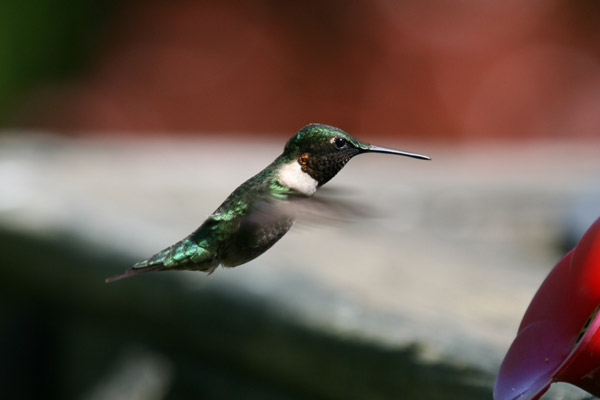 These were at the feeder on September 10th, 2017.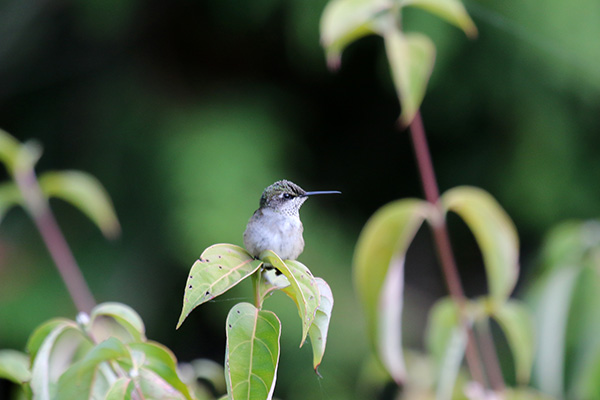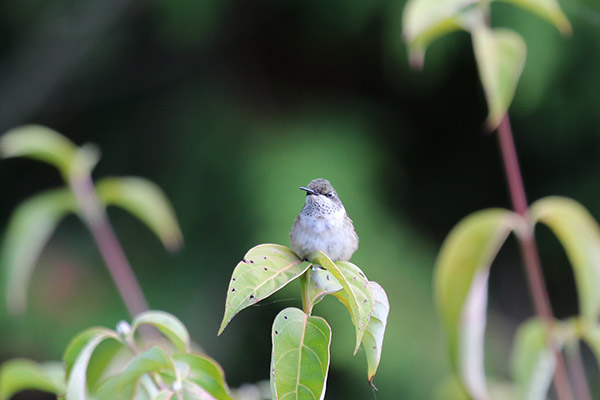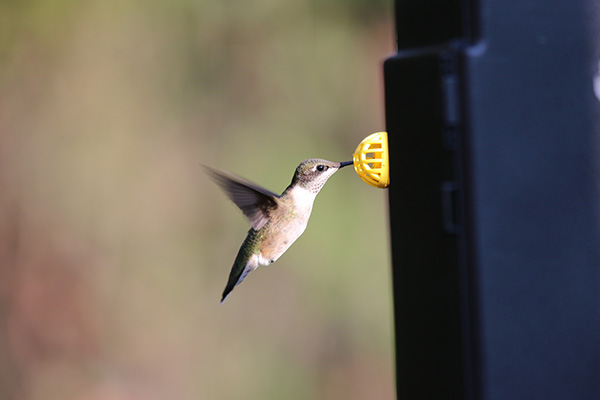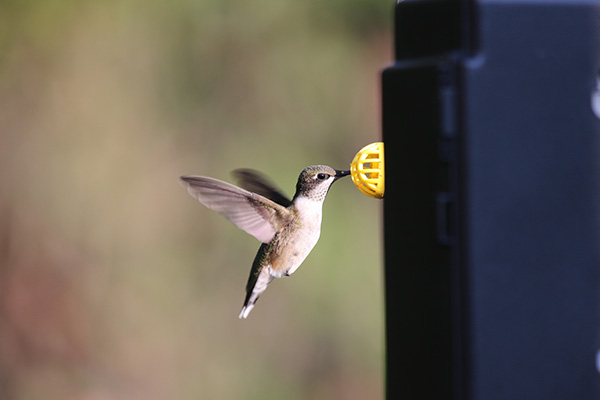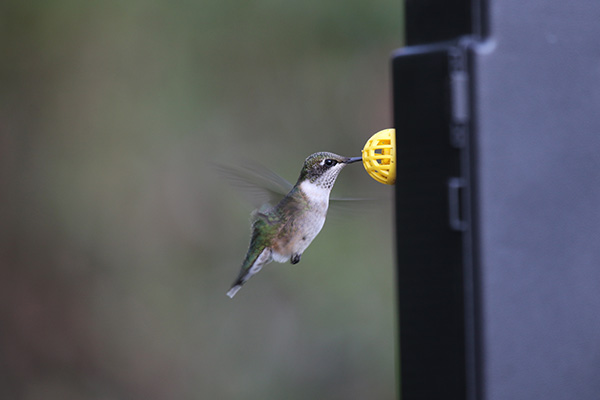 I saw these at our back deck feeeder on May 12th, 2018.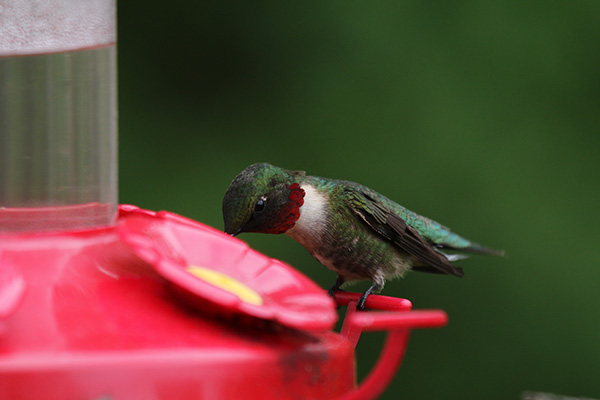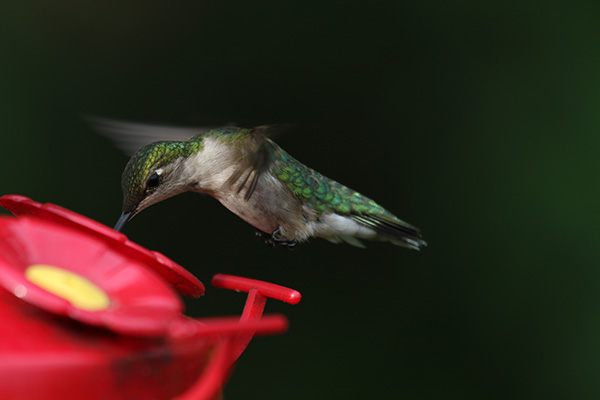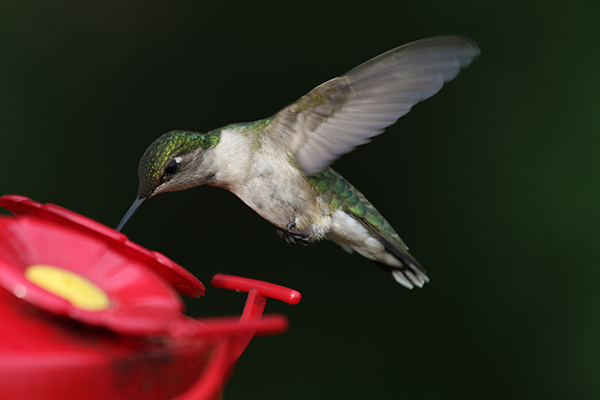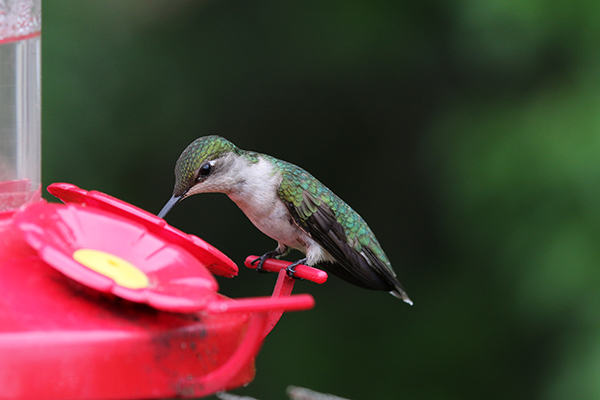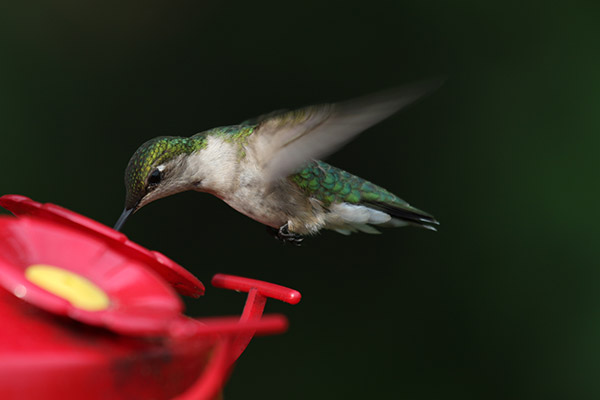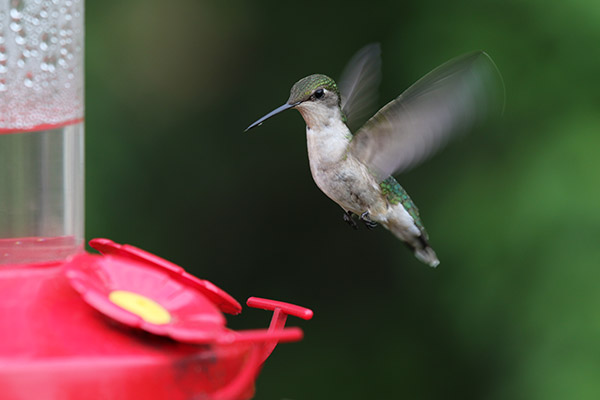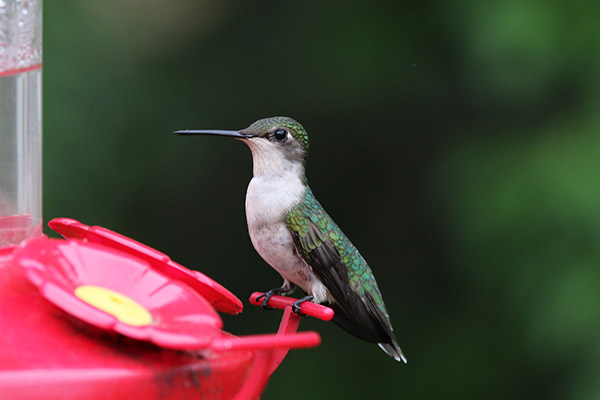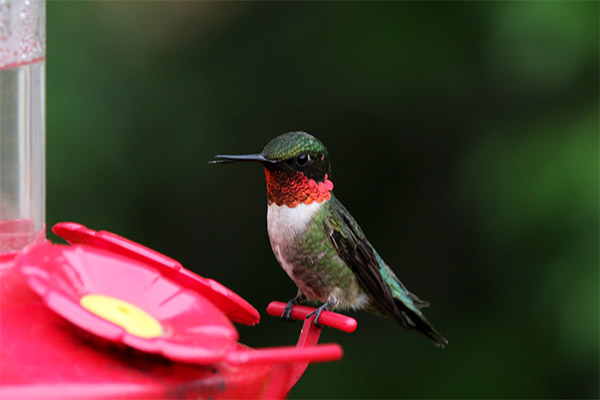 These were in our backyard om September 22nd, 2018.