Maryland Half Marathon
5/23/2010
I ran the Maryalnd Half Marathon in Baltimore County on May 23rd, 2010. This was a fund raising event for a local cancer center. I wanted to run it at about a 10 minute per mile pace. I started around 9:40 and then eased off to 10:00 or so during the big hills. The last couple of miles were downhill, so I sped up for a strong finish. It rained pretty hard right before the race, but it stopped shortly before the start. This meant that the hunidity would be up all morning, but that beat running in a rain storm.
My finishing time was 2:05:49. I was 515th out of 1152 finishers. I beat my old personal best by about 13 minutes, which was great.
This photo was taken out on the course. I did not buy the larger photos, so these are going to be small.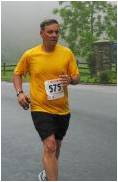 My finish line photo.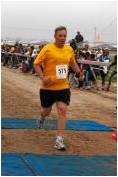 Me and my medal, after the race. I felt pretty good, without too much pain or stiffness.