Sunrise Sun Pillar
5/10/2005
This beautiful sun pillar was visible shortly before sunrise from our home in Havre de Grace, MD. I took these photos at 5:35 AM on May 10th, 2005. I was watching the morning news on WBAL-TV channel 11 and saw the pillar on one of their "tower cam" shots of the Baltimore sunrise. I went outside to see if it was visible here too, and it was.
Pillars are fairly common events. They can be seen above bright lights when it is very cold outside, due to the presence of ice crystals in the air. According to my reference, Light and Color in the Outdoors, by M.G.J. Minnaert, pillars are caused by either reflections of sunlight off of irregularly aligned ice crystals, or due to internal reflections inside rotating ice crystals. This morning was clear and cloudless, but obviously there was ice in the upper levels of the atmosphere.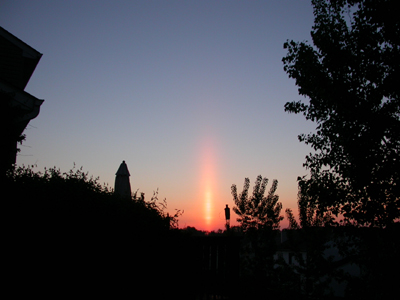 A wide angle view of the pillar, framed by the neighbor's deck and tree.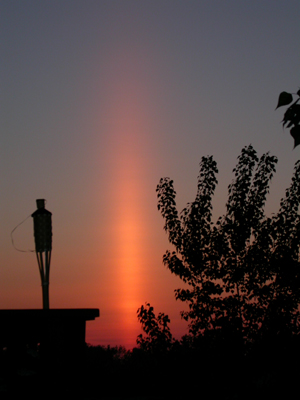 A tighter view, taken at the same time as the previous photo.
Back to Monroe's home page