Rehoboth Beach Seashore Half Marathon 2010
12/12/2010
I ran the Rehoboth Beach Half Marathon on December 11th, 2010. My goal was to finish in under two hours and to maintain a steady pace as close to the 9:09 per mile required to make the two hour finish time. The course starts in the town of Rehoboth, winds through the city streets to the Gordon Pond area of Cape Henlopen State Park, then back into town. From there, the route continues toward the start of the Junction and Breakwater trail. It follows the trail for several miles, with the half marathon turnaround point just past the trail's end. The route then continues back on the trail and finally into Rehoboth, with the finish in front of the Rehoboth Beach Running Company.
The weather was nice, but a bit cold. It was about 27 degrees at the start, and maybe 38 afterwards. There was not much wind, and no rain. I wore my Under Armour Coldgear shirt with my Baltimore Marathon shirt over the top, and my CW-X tights with shorts over them. I also had my Nike running gloves and a knit cap to keep my head warm.
There were no pace groups or corrals for this medium sized race. There were goal pace signs near the start so that people could line up in approximately the right place. I lined up at the 9:00 minute per mile sign. The first five miles of the course included the city streets and the road to and from Gordon's Pond. I was able to maintain my goal pace:
Mile 1- 9:04
Mile 2- 9:01
Mile 3- 9:00
Mile 4- 9:05
Mile 5- 8:58
I was a few seconds ahead of my 9:09 pace, but not by enough to slow down. I did deliberately slow down a few times when I noticed that the pace was too fast. My Garmin watch was very useful in helping me stay on track.
A man in a bright yellow bee suit passed me around mile 2.
I felt good heading out of town and along the trail. Most of the trail surface was hard, crushed gravel. This was not a problem, and footing was fine. I managed to stay on pace to the turnaround point near mile 9:
Mile 6- 9:03
Mile 7- 9:02
Mile 8- 8:54
Mile 9- 9:08
After turning around and heading back on the trail, I noticed an unusual pain in my right knee. It hurt up toward my hip at the same time. I don't know if this means it was the ITB, but there was a noticeable, moderate, sharp pain in the knee that affected my rhythm a little. Fortunately I was able to keep going and the pain went away after about five minutes. This did not affect my pace much heading back into town. I was slowing down a little, but I was still on track to finish in two hours.
Mile 10- 9:11
Mile 11- 9:10
I was hurting by the time I got to the end of the trail. I was still on pace, and the knee pain stayed away. I managed to gut it out and finished on pace.
Mile 12- 9:14
Mile 13- 9:11
Mile 13.1- 8:01 pace
My official finishing time was 1:58:50. I beat my goal by just over a minute, and beat my old half marathon personal record by just under seven minutes. I placed 198th out of 540 finishers. I was 18th out of 30 in the 45-49 male age group. My time averaged out to a 9:05 pace. My Garmin heart rate monitor showed that I spent most of the race above 160 beats per minute with much of the second half above 170. I guess I was pushing pretty hard. This photo was taken right before the finish line.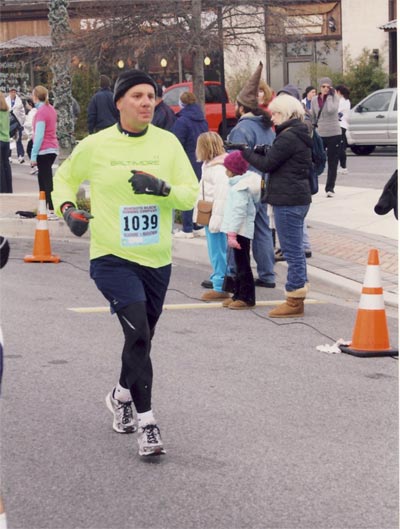 They had a post-race party in a tent by the finish line. This included hot food, drinks, a place to warm up, and massages. I had a plate of pancakes and blueberry topping. Yum yum. I did not need to eat anything on the run, but I was pretty hungry after finishing. I stuck around for a few minutes to cheer on the other finishers.
I changed clothes and drove up to Bombay Hook for some birdwatching on my way home. I felt OK in the car, but when I got out for a bathroom break and to try to buy a sandwich for lunch, my legs and ab muscles all started to cramp up. It was hard to stretch out one cramp because another would cramp up as the first one released. It got better when I got back in the car. I figured I was dehydrated or low in salt, so I drank some more water and ate a salty snack. The place I stopped for lunch doesn't serve sub sandwiches any more, so I headed north to find another place to eat. I eventually ate at a WaWa and did my birdwatching tour through Bombay Hook. The cramping eased up and I felt fine, but tired, the rest of the day.