November 2004 Aurora
11/07/2004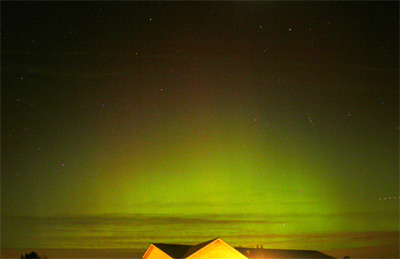 This aurora was seen at about 7:20 PM EST on November 7th, 2004. I was looking to the north from our home in Havre de Grace, MD. I adjusted the levels in Photoshop to make the photo represent what the aurora looked like visually. To the eye, it looked like a bright green glow, with the clouds on the horizon illuminated from above. At the start of the show, a patch of green was visible to the left of the area shown here, with a patch of red to the right of that, and then this main part of the glow. The whole thing lasted almost an hour. This photo was taken with my digital camera, a Nikon Coolpix 4500.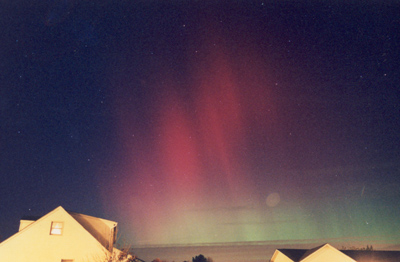 This is a photo of the same area, at about the same time, but with my film camera (a Canon AE-1 Program, 28mm lens, f3.5, ASA 400 print film, exposure time not recorded). The red was barely visible to the naked eye when I first saw the display, but it was not visible to me when I took this photo. The digital photo at the top of the page looks pretty much like it did visually.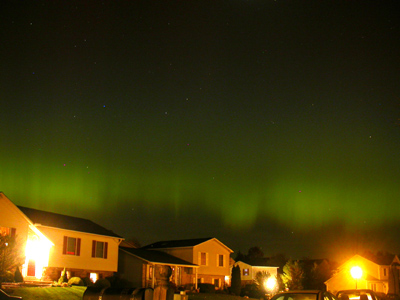 The aurora returned some time before 11 PM EST. This time it looked like a shimmering green curtain, more to the north than the glow earlier. It ran from the northeast to the northwest.
I'd like to thank spaceweather.com for the aurora warning, and our dog Madison for having to go out at just the right time this evening.
Photos of a November, 2003 aurora display.